Braces Colors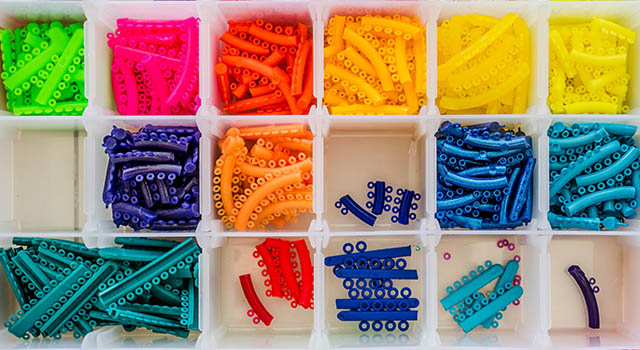 Braces Colors
Braces Colors: What To Go and Not Go For
Choosing braces colors can be a fun but It is fun because these are so many options available and you can pick one according to your own needs. But, at the same time it is stressing because there is a lot of pressure. What if you end up choosing the wrong color?<
This is why we have prepared this braces colors guide for you to help you pick the right color for your braces. Remember that once you choose a color, you will have to live with it for a good few months so make sure to be careful about this decision.
Colors Not to Choose
Firstly, let's talk about colors not to choose. Ideally, you should stay away from colors that make your teeth look dull and yellowish. These include clear bands as they can quickly get discolored. White braces may sound like a good idea on paper but they typically do not go well with the teeth because they can make the teeth appear discolored. Light colors can also make the teeth appear more yellow than they really are hence you should stay away from light colors as well. Other than this, shades of green and brown are also a bad choice, especially if you do not have very white teeth. Now that you know about the colors to stay away, let's have a look at some good color choices:
Best Braces Colors For Your Teeth
There is no one word answer to this as the right color is subjective. Some common colors are red, blue, orange and purple. These shades do a good job of covering food particles and also do not make your teeth appear to be tinted. Darker braces colors are a good choice as they compliment your teeth. A good option is to go for colors that match your eyes. Your skin tone should also be considered when choosing colors. Green, gold, dark blue and orange go well with dark skin. Pink, bronze and dark purple typically go well with light skin. Remember that you will get the chance to change the color somewhere down the line, so do not let this decision put a lot of pressure on you. Moreover, you can also ask your dentist for tips on the right braces color. We at Avon Dental Round Lake are always available for help. Call 847-today.
$500 Off
Offering Braces in Traditional, Clear, or Invisalign Orthodontic
A free full orthodontic consultation is required to see which straightening option will work best for you.
Looking For The Right Braces?
Getting the Right Braces Colors Starts Here
Round Lake Beach, IL & Grays Lake, IL
Our Locations
Useful Links
For Quick Access
Sunday
By Appointments Only
* Every other Saturday we alternate. Call for details.